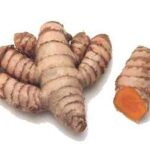 Researchers at Central South University, in Hunan, China studied the effect of curcumin (turmeric) on drug metabolizing enzymes.
Their findings suggest a risk for curcumin-drug interactions.
First, the details.
16 healthy Chinese men were recruited for the study.
There were 2 phases.

First phase, volunteers received 100 mg caffeine by mouth and 0- to 12-hour blood and urine samples were collected.
Second phase, volunteers received 1000 mg curcumin once daily for 14 continuous days, with blood and urine samples were collected on days 1 and 15.

Caffeine metabolites (eg 17X, 17U) in the urine were used as the indicators of the activities of 4 enzymes: cytochrome P450 enzymes (CYP1A2 and CYP2A6), N-acetyltransferase type 2 (NAT2), and xanthine oxidase (XO).

CYP1A2 and CYP2A6 are members of the "superfamily" of liver enzymes, which alter the rate of drug metabolism and synthesis of cholesterol, steroids and other lipids.
NAT2 and XO participate in detoxification of foreign substances in the body.

The pharmacokinetics of caffeine and its metabolites were measured using high-performance liquid chromatography.
And, the results.
When taking curcumin…

CYP1A2 activity significantly decreased 29%.
CYP2A6 activity significantly increased 49%.
The area under the concentration-time curve (a measure of how much drug is absorbed) from 0 to 12 hours of 17X significantly decreased 27%.
Urinary excretion of 17X and XO decreased 36% and 31%, respectively.
Excretion of 17U significantly increased 77%.

There were no significant changes for caffeine, 1-methylurate, and 5-acetylamino-6-formylamino-3-methyluracil between the 2 study phases.
The bottom line?
The authors concluded, "Curcumin inhibits CYP1A2 function but enhances CYP2A6 activity. Simultaneously, some pharmacokinetic parameters relating to 17X were affected by curcumin."
No actual curcumin-drug interaction has been reported, but there is a risk that should be considered when patients are evaluated.
5/20/10 17:09 JR