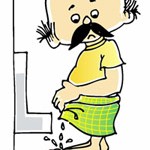 Men increasingly use herbal remedies to treat bothersome lower urinary tract symptoms due to benign prostatic hyperplasia. Yet, study results with these products are inconsistent.
Researchers from Princess Margaret Hospital, in Toronto, Ontario think it might be due to contamination of these products.
First, the details.
15 herbal products marketed for benign prostatic hyperplasia were tested for the presence of prescription drugs used to treat benign prostatic hyperplasia.

Alfuzosin [Uroxatral]
Doxazosin [Cardura]
Terazosin [Hytrin]
Tamsulosin [Flomax]
Dutasteride [Avodart]
Finasteride [Proscar]

Only tablets or capsules were considered, with teas, tonics, and foods excluded from study.
The products were obtained through random purchases from health stores and Internet retailers.
High performance liquid chromatography was used to test for the contaminants.
And, the results.
No contamination by the drugs listed above was observed.
The bottom line?
The authors concluded, "Inconsistent results in trials using phytotherapeutic agents are probably not explained by the presence of standard pharmaceuticals."
I disagree; 15 products don't begin to cover the number of "natural" products available for purchase online to treat benign prostatic hyperplasia. And lack of contamination in 1 lot of a product doesn't guarantee purity of all lots.
The only way to be sure that contaminants are not the cause of inconsistent study results is to test a sample of the product being used prior to the study.
4/22/10 19:46 JR