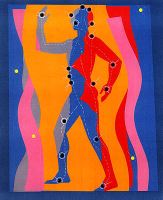 Researchers from Kyung Hee University Medical Center, in Seoul Korea reviewed the evidence.
First, the details.
31 studies in 3013 participants were systematically reviewed.
Data from 29 studies were combined and used for a meta-analysis.
About two-thirds of the studies showed the lowest Jadad score, which is used to assess the quality of clinical studies.
And, the results.
Compared to controlling lifestyle, acupuncture showed a significant reduction of average body weight (1.72 kg; 3.8 lb) and improvement in obesity.
Compared to placebo or sham treatments, acupuncture significantly reduced body weight 1.56 kg (3.4 lb), on average.
Compared to conventional medication, acupuncture was also more effective in reducing body weight (average difference = 1.9 kg [4.2 lb]).
Side effects reported in 4 studies were mostly minimal.
The bottom line?
The authors concluded that their analysis "suggests that acupuncture is an effective treatment for obesity."
"However," they caution, "the amount of evidence is not fully convincing because of the poor methodological quality of trials reviewed."
The benefits are modest, and the abstract doesn't mention the number of acupuncture treatments required to achieve these benefits, and for how long the weight loss was maintained.
5/19/09 17:34 JR