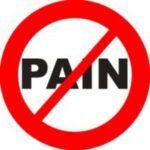 Chronic pain is associated with depression.
Self-treatment of that depression with St John's wort makes pain patients prone to a drug interaction with the potent pain drug, oxycodone (OxyContin), according to this study by researchers at the University of Turku, in Finland.
First, the details.
12 healthy people were randomly assigned to each treatment group in different order for 15 days of treatment each.

St John's wort (Jarsin) taken 3 times daily
Placebo

Oxycodone pharmacokinetics and pharmacodynamics (course and intensity of drug effects) were compared after St John's wort or placebo.
Behavioral and pain relief effects were assessed using a visual analogue scale and cold pressor test (immersing the hand into an ice water container and measuring pain).
Blood levels of oxycodone were measured from 0 to 48 hours, behavioral and analgesic effects from 0 to 12 hours.
And, the results.
After taking St John's wort, the oxycodone AUC (total drug concentration) significantly decreased 50%.
Oxycodone elimination from the body (half-life) shortened significantly from 4 to 3 hours.
Patients recorded significantly less pain relief.
There was no difference between St John's wort and placebo in the cold pressor test.
The bottom line?
The authors concluded, "This interaction may potentially be of some clinical significance when treating patients with chronic pain."
In 2007, St. John's wort was not among the 20 most commonly used dietary supplements. I'd say it's a question every healthcare profession must ask before acute or chronic pain treatment.
3/21/10 20:50 JR