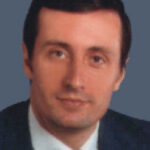 Dr. Mark Moyad (photo) is Director of Preventive and Alternative Medicine at the University of Michigan Medical Center in Ann Arbor.
His recommendations.
Wash up

Ethyl alcohol hand gel and plain soap and water should be encouraged.
Antimicrobial soaps should be discouraged.

Gargling and nasal sprays

Gargling with water and using nasal saline spray are also cost effective and supported with clinical evidence.

Vitamins

Vitamins C and D have the largest benefit-to-risk ratio for patients and may reduce the risk of pneumonia.

Other supplements

Echinacea, vitamin E, and zinc, have some research support for their use, but also have potential long-term safety issues.

High-calorie antioxidant beverages

These only encourage weight and waist gain.

Honey

A teaspoon or 2 of honey has antimicrobial activity and may suppress cough.
The bottom line?
He concludes, "Vaccine compliance as early as possible should be promoted as a selfless act that reduces viral transmission that could cause morbidity and mortality in the most immune vulnerable individuals."
1/23/10 19:30 JR