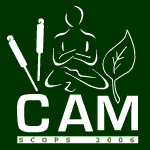 Researchers at the University Medical Centre Utrecht and De Hoogstraat, in The Netherlands surveyed the use of CAM in a large group of Dutch patients with spinal cord injury.
First, the details.
575 people with spinal cord injury were surveyed by mail.
Questions covered current level of pain, past and current pain treatments, and perceived effectiveness of current pain treatments.
And, the results.
Most respondents with chronic spinal cord injury pain (63%) reported more than 1 pain type, of which neuropathic pain was most frequently reported (69%).
Of this group, 64% were using some kind of treatment, although high levels of pain were reported.
Most often used CAM:

Massage (therapy)/relaxation (training)

CAM most often perceived as effective:

Acupuncture/magnetizing
Cannabis/alcohol
Physiotherapy and exercise
Massage (therapy)/relaxation (training).

Least often perceived as effective was TENS/ultrasound.
The bottom line?
Interestingly, these patients considered even the least effect CAM (TENS) to be more effective than antidepressants.
8/12/10 20:15 JR