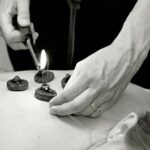 Moxibustion is a traditional East Asian medical therapy that uses heat generated by burning herbal preparations containing Artemisia vulgaris (mugwort or common wormwood) to stimulate acupuncture points.
Prof. Ernst and colleagues evaluated the evidence.
First, the details.
4 studies were included in the review.
And, the results.
2 studies failed to report favorable effects of moxibustion on blood pressure compared to antihypertensive drug treatment alone.
A third study reported significant effects of moxibustion when it was added to antihypertensive drug therapy compared to antihypertensive drugs alone.
The fourth study addressed the immediate (rather than long term) blood pressure-lowering effects of moxibustion compared to no treatment.
None of the studies attempted to prevent the evaluator from knowing the treatment given to the patients — no attempt to blind the evaluator.
The bottom line?
The authors concluded, "There is insufficient evidence to suggest that moxibustion is an effective treatment for hypertension."
Prof. Ernst appears to be focusing on moxibustion. Already this year he has published 2 reviews of moxibustion to treat ulcerative colitis and cancer.
In both areas, as in this review, there's a problem in study design that limits the ability to assess the results and the value of moxibustion treatment.
7/7/10 20:16 JR