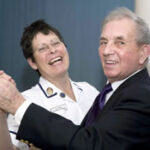 Researchers at Aristotle University, in Thessaloniki, Greece, studied the effect of Greek traditional dances on quality of life.
First, the details.
111 elderly people were assigned to a treatment group for 1 hour.

Greek traditional dances
A control group that discussed and watched television

Well-being, psychological distress, and fatigue were measured.
The Subjective Exercise Experiences Scale (SEES) was used to measure positive well-being, psychological distress, and fatigue.
And, the results.
The control group in comparison to dance group had significantly higher levels of state anxiety, psychological distress, and fatigue, and significantly lower levels of positive well-being.
After dancing to approximately 63% of maximum heart rate, the dance group experienced significant decreases in anxiety and psychological distress, as well as significant increases in positive well-being and fatigue.

There was no significant difference in the control group.
The bottom line?
The authors concluded, "Greek traditional dances may be used as a functional psycho-physical activity, to produce both physical and mental benefits for elderly individuals."
I doubt there is anything intrinsically healthy about dancing the syrto (unless all the patients are Greek). The key to success would probably be finding an activity that the older people can relate to.
Earlier this year, researchers from France reported, "Adapted exercise programs can slow down the decline in health-related quality of life among heterogeneous, institutionalized elderly persons.
6/12/10 21:34 JR