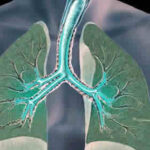 During the 2009 annual meeting of the American College of Allergy, Asthma & Immunology, researchers from the Cleveland Clinic, in Ohio reported the risk of obesity in asthmatic patients.
First, the details.
The medical records of 184 patients with asthma were reviewed.
Each person completed the Asthma Control Test (ACT) and tests to evaluate the severity of their disease.
71 of these patients were obese.
And, the results.
Among patients with well-controlled asthma, about half were obese.
Among those with uncontrolled disease, about two-thirds were obese — a significant difference.
Significantly more of the obese patients had very poorly controlled asthma (ACT score less than 15) vs the intermediate group (scores between 20 and 15).
There was no significant difference between obese and nonobese patients in their exhaled nitric oxide — a measure of airway inflammation.
There was no significant difference in the ability to exhale, as measured by the one-second forced expiratory volume test (FEV1).

FEV is the maximum volume of air that can be expired from the lungs in a specific time  when starting from maximum inspiration.

The obese patients with more severe asthma however, did not have significantly poorer control of their asthma.
The bottom line?
MedPage Today interviewed Dr. Talal Nsouli of Watergate and Burke Allergy and Asthma Centers in Washington, DC about the findings. Dr. Nsouli commented, "Breathing can become more difficult because extra weight carried on the abdomen can put pressure on the lungs, exacerbating asthma in these patients."
11/30/09 20:33 JR