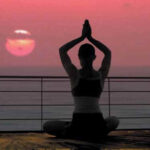 It holds promise in the overall management of eating disorders, according to researchers at Seattle Children's Hospital, in Washington.
First, the details.
54 participants (11 to 21 years old) were randomly assigned to a treatment group for 8 weeks.

Standard care (every other week physician and/or dietitian appointments)
Individualized yoga + standard care

After 1 month of follow-up, Eating Disorder Examination (EDE; the "gold standard" to identify eating disorders), Body Mass Index (BMI), Beck Depression Inventory, State-Trait Anxiety Inventory, and Food Preoccupation questionnaire (relationships between food preoccupation, food processing biases and overeating) were evaluated.
And, the results.
The yoga group showed greater decreases in eating disorder symptoms.

Specifically, the EDE scores decreased over time in the yoga group vs standard care.

Food preoccupation decreased significantly.
Both groups maintained their BMI levels and decreased anxiety and depression over time.
The bottom line?
The authors concluded, "Individualized yoga treatment decreased EDE scores at 12 weeks, and significantly reduced food preoccupation immediately after yoga sessions. Yoga treatment did not have a negative effect on BMI."
Researchers at San Jose State University, in California report that regardless of the reason for practicing yoga, "improvements in body satisfaction and disordered eating [are] due in part to yoga and its associated spirituality."
3/24/10 20:56 JR