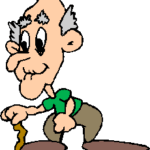 Researchers from Faculté des Sciences du Sport, in Bordeaux, France compared the response to 2 exercise programs vs usual care.
First, the details.
160 elderly institutionalized people were randomly assigned to a treatment group for 6 months.

Adapted tai chi program (4 times 30 minutes/week)
Cognition-action program (2 times 30 to 45 minutes/week) that focused primarily on an adapted guidance of patient-centered communication skills
Usual care

Changes in health-related quality of life based on activities of daily living and Neuropsychiatric Inventory scores after 12 months.
And, the results.
The control group experienced a decline in activities of daily activities, which did not differ from the adapted tai chi and cognition-action groups.
The total Neuropsychiatric Inventory score worsened significantly in the control group, while it was unchanged or improved in the treatment groups.
Differences between the cognition-action group and control group were significant.
Neuropsychiatric diagnosis subgroups (such as dementia and psychosis) did not change with any treatment.
The bottom line?
The authors concluded, "Adapted exercise programs can slow down the decline in health-related quality of life among heterogeneous, institutionalized elderly persons.
The results reported here are marginal from a practical point of view.
However, others have presented evidence that tai chi, and keeping active have benefits.
3/25/10 20:23 JR