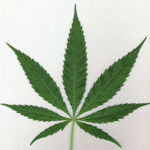 Researchers from the University of Zurich, in Switzerland studied the possiblity that regular cannabis use increases the risk of dental caries.
First, the details.
43 regular cannabis users and 42 tobacco smokers were studied.
All participants completed a standardized questionnaire and a clinical examination.
In addition, the cannabis smokers were compared to a group of Swiss military recruits.
And, the results.
There was no difference between groups in decayed and filled tooth surfaces, saliva flow rate, and plaque and gums.
Marijuana smokers had significantly higher tooth decay vs cigarette smokers.
Marijuana smokers were also significantly less likely to brush their teeth daily and visit a dentist for preventive checkups vs cigarette smokers.
The cannabis smokers drank significantly more sugar-containing beverages than the cigarette smokers.
The cannabis smokers also had more dental caries on smooth surfaces than the military recruits.
The bottom line?
The epidemiological data collected during this study suggest that the prevalence of cavities on smooth surfaces of teeth is higher in cannabis smokers.
However, the data from decayed and filled tooth surfaces indicate that cannabis users aren't at increased risk of cavities.
The authors concluded that lifestyle combined with the short-term decrease in saliva flow after delta-9-tetrahydrocannabinol consumption probably combine to cause of the high prevalence of dental caries in cannabis users.
More research will be needed before we can list tooth decay among the negative effects of smoking pot.
3/4/10 19:24 JR