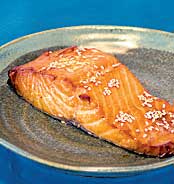 Researchers from Sweden studied the effects of foods and other factors on the risk of eczema at 1 year of age.
First, the details.
8176 families received a questionnaire when their child was 6 months of age.
Families that agreed to participate received another questionnaire when the babies were 12 months old.
60% completed both questionnaires.
And, the results.
At one year of age, 21% of the infants had previous or current eczema starting at 4 months of age.
A history of eczema in the family, especially in siblings or the mother, was a significant risk factor.
There were significant benefits of introducing fish before 9 months of age.
Short-term breast-feeding, the age at which milk or eggs were introduced, a cat or dog in the home, or parental smoking had no effect on the risk of eczema.
The bottom line?
The authors concluded, "Beneficial effects were seen from introducing fish before 9 months of age."
There was no association between specific types of fish and eczema, making it "somewhat difficult to ascribe the effect to omega-3 fatty acids alone."
Medpage has a detailed review of the results.
9/26/08 20:20 JR