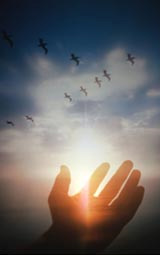 Writing on Medpage Today, Drs. David Nash and Elaine Yuen from Thomas Jefferson University in Philadelphia tell us that the number of medical schools offering courses on spirituality has increased from 3 schools in 1992 to 84 in 2004.
There are 126 accredited medical schools in the US today.
In its Medical School Objectives Report (1999), the American Association of Medical Colleges introduced spiritual care as important among communication practices, acknowledging the value that many patients place on their spiritual and religious practices.
In response to the Joint Commission specification that a patient's "spiritual history" be documented in hospitals and nursing homes, a "spiritual work-up," according to the authors, may soon become integrated into the physician's standard history and physical examination.
The objective would be to help providers understand patients' spiritual beliefs and the role they play in patients' coping. It would also help identify spiritual needs to be addressed.
Relevant issue to cover include:
Does the patient use religion to help cope or is it a source of stress?
Is the patient a member of a supportive spiritual community?
Does the patient have any troubling spiritual questions or concerns?
Does the patient have any spiritual or religious beliefs that might influence medical care?
Are there ethical boundaries?
6/17/09 11:46 JR