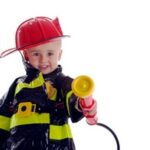 Perhaps it defies your mental image of firefighters, but researchers from The City University of New York report their findings.
First, the details.
108 firefighters participated in yoga classes during work, in their fire stations over 6 weeks.
The classes included pranayama (breathing), asana (postures), and savasana (relaxation).
Most were physically active but had no prior experience with yoga.
And, the results.
77 participants completed the study.
There was significant improvement in the Functional Movement Screen, a 7-item test that measures functional fitness.
Improvements were also noted in trunk flexibility and perceived stress.
Participants also reported favorable perceptions of yoga: feeling more focused and less musculoskeletal pain.
The bottom line?
This appears to be the first study of yoga in this group of workers. Considering that about 1 in 3 failed to complete the study, the biggest challenge appears to be in getting firefighters to participate long-term.
Otherwise, the findings "indicate that participants benefited from yoga," concluded the authors.
12/20/09 14:09 JR