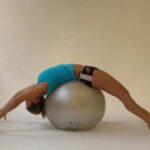 Shoulder biomechanics and spine alignment are related to neck-shoulder pain.
Researchers from McGill University, in Montreal, Quebec studied the effects of Pilates.
First, the details.
19 adults were assigned to a treatment group twice, 12 weeks apart.

A Pilates training program (2, 1-hour sessions per week)
A control group

Seated posture; abdominal strength; shoulder range of motion; and maximal shoulder flexion, during which neck, shoulder and trunk kinematics, and the activity of 16 muscles were recorded.
And, the results.
The Pilates training program improved abdominal strength and upper spine posture.
There was also stabilization in core posture during shoulder movements.
The bottom line?
The authors tell us, "Deficits in these functional aspects have been associated with symptoms in the neck-shoulder region." They conclude that the "results support the use of Pilates in the prevention of neck-shoulder disorders."
11/8/09 21:45 JR