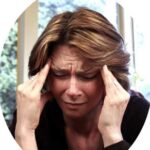 Researchers from the Villa Margherita Neurology Clinic, in Vicenza, Italy studied the use of ginkgolide B — an herbal constituent extract from Ginkgo biloba tree leaves — in patients suffering from migraine with aura.
MayoCllinic.com tells us, "Some people who get migraines also experience a variety of mostly visual sensations that come before or accompany the pain of a migraine attack… Most often, a migraine with aura is characterized by visual disturbances such as flashes of light, zigzagging patterns or even blind spots. However, a migraine with aura may also be accompanied by other sensations, such as numbness or tingling in parts of your body and speech problems."
First, the details.
50 women suffering from migraine with typical aura, or migraine aura without headache entered a 6-month study.

For 2 months they took no drugs to prevent migraine.
For 2, 2-month periods they were treated with a combination of 60 mg ginkgo biloba terpenes phytosome, 11 mg coenzyme Q 10, and 8.7 mg vitamin B2 (Migrasoll), twice daily.

The patients maintained a detailed diary of neurological symptoms, and duration and frequency of migraine with aura.
And, the results.
Reports of migraine with aura significantly decreased during treatment.

4 migraines during no treatment
2 and then 1 migraine during the 2 treatment periods

There was also a statistically significant decrease in the average duration of migraine with aura

40 minutes during no treatment
28 and then 18 minutes during the 2 treatment periods

Disappearance of migraine with aura was observed in 11% and then 42% of patients during the 2 treatment periods, respectively
No serious adverse event was recorded.
The bottom line?
The authors concluded, "Ginkgolide B is effective in reducing migraine with aura frequency and duration."
A review of migraine treatments published last year on Medscape by researchers at the University of Texas Health Science Center at Houston stated, "Few studies in adults or children have evaluated the benefit of herbs (feverfew, ginkgo, and valerian root), minerals (magnesium), and vitamins (riboflavin)." Although they commonly have been used in the treatment of migraines. The importance of this study is that it attempts to fill part of that void.
The benefits of ginkgo as formulated in the Migrasoll product appeared to increase with longer treatment. However, it doesn't appear that the researchers attempted to determine the statistical significance of this observation.
11/11/09 08:27 JR