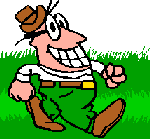 Researchers from the University of Leicester, in the UK put the pedometer through its paces.
First, the details.
87 overweight and obese individuals with impaired glucose tolerance were randomly assigned to a treatment group.

Group 1: 3 hours of education to promote walking using personalized goals and pedometers.
Group 2: 3 hours of education to promote walking activity using time-based goals.
Group 3: a brief information leaflet.

Glucose tolerance testing, anthropometric measures, activity, and psychological variables were measured over 1 year.
And, the results.
At 12 months there was significant blood sugar control in the pedometer group vs the control group.
No significant improvements were seen in those given standard education.
The bottom line?
The authors concluded, "A pragmatic structured education program that incorporates pedometer use is effective for improving glucose tolerance in those with impaired glucose tolerance,…[and] is likely to have important implications for future primary care-based diabetes prevention initiatives."
Last year, a call went out for more research on the contributions of a pedometer to encourage walking. Apparently, this study has responded to the challenge.
More positive data on the value of pedometers is here.
10/2/09 7:33 JR