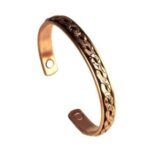 People tend to buy them when they're in a lot of pain. Then, when the pain eases over time they attribute the change to the device.
But researchers from the University of York, in the UK report they are "generally ineffective for managing pain, stiffness, and physical function in osteoarthritis."
First, the details.
45 adults with osteoarthritis were assigned to 4 treatments for 4 weeks each.

A commercially available magnetic wrist strap
The control treatments included a weak magnetic wrist strap, a demagnetized wrist strap, and a copper bracelet.

Patients and researchers were unaware of the treatment given — double blind.
Each patient received both treatments — crossover study design.
And, the results.
There was no difference between devices in pain as measured by the Western Ontario and McMaster Osteoarthritis Index (WOMAC) pain rating index, or the visual analog scale.
There were also no difference in stiffness (WOMAC), physical function (WOMAC), and medication use.
Patients reported lower sensory pain after wearing the standard magnetic wrist strap, than when wearing control devices.
The bottom line?
The authors concluded, "Reported therapeutic benefits are most likely attributable to non-specific placebo effects. However such devices have no major adverse effects and may provide hope."
Pain is a difficult thing to treat effectively. If people with pain take an "ineffective" treatment, feel better, and do not put their health at risk, should we be OK with it?
10/19/09 13:52 JR