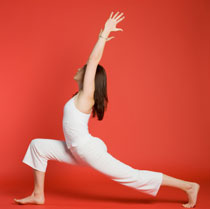 Professional musicians experience high levels of stress, performance anxiety, and debilitating performance-related musculoskeletal disorders.
Researchers from Harvard Medical School, in Boston evaluated the benefits of yoga and meditation for musicians.
First, the details.
45 young adult professional musicians volunteered to participate in a 2-month program of yoga and meditation.
They were randomly assigned to a treatment group.

Yoga lifestyle intervention
Yoga and meditation practice
A no-practice control group

Both yoga groups attended 3 Kripalu Yoga or meditation classes each week.

Kripalu emphasizes proper breathing, alignment, and coordination of breath and movement

The yoga lifestyle group also participated in weekly group practice and discussion sessions.
All participants completed questionnaires that evaluated music performance anxiety, mood, performance-related musculoskeletal disorders, perceived stress, and sleep quality.
Many participants later completed a 1-year follow-up assessment using the questionnaires.
And, the results.
Both yoga groups showed a trend towards less music performance anxiety.
There was significantly less general anxiety/tension, depression, and anger compared to the controls.
There were no changes in performance-related musculoskeletal disorders, stress, or sleep.
The bottom line?
The authors concluded that similar results in the 2 yoga groups, despite differences in their treatments, suggest that the yoga and meditation techniques may have been responsible for the improvements.
The results support a smaller study by the same researchers several years ago.
8/9/09 18:13 JR