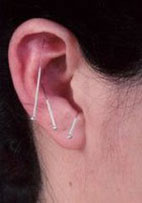 Prof. Ernst and colleagues report, "The evidence that auricular acupuncture reduces postoperative pain is promising.
But is it compelling?
First, the details.
A literature search revealed 23 articles.
The quality of each study was evaluated using the Jadad scale.
9 were of sufficiently high quality to be reviewed.
It was not possible to combine the data from individual studies and conduct a meta-analysis because of differences in the studies.
And, the results.
7 studies scored 3 or more points (rated good) on the Jadad scale, but none reached the maximum of 5 points (excellent).
In 8 studies, pain control in the group treated with auricular acupuncture was superior to the control conditions in the comparison group.
The bottom line?
So, the results are promising, but not compelling, according to the authors.
A video description of auricular acupuncture "the switchboard to the brain," along with pictures and diagrams can be viewed here.
11/28/08 17:44 JR