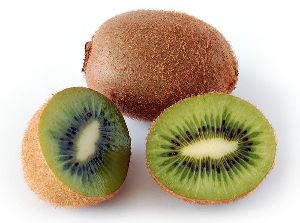 A study by Dr. Maria Amodio from the University of California, Davis compared the nutritional profile of conventional and organic kiwis (aka, Chinese gooseberries).
Here are the results.
To control for confounding variables, kiwi fruit was grown on the same soil type and environmental conditions.
Ascorbic acid (vitamin C) levels were higher for organically grown fruit during storage at 0 degrees C (Celsius) (0.33 vs 0.29 g/kg)
No difference after storage at 20 degrees C for 7 days.
Total phenolics and total antioxidant activity were also higher in the organic kiwi fruit.
Kiwi is a very good source of vitamin C. The average fresh kiwi provides 164 mg of vitamin C, according to NutritionData. That's 273% of the recommended dietary value for a 2000-calorie diet. When held in storage, the vitamin C level is 68 mg, which is still 114% of the recommended intake per day.
Food Navigator.com|Europe quotes Dr. Carl Winter, the director of the FoodSafe Program at the same school, who takes a critical look at the results. "Such increased nutrient and antioxidant levels may not result in any health benefits." "The authors also did not look for any secondary metabolites of potential toxicological impact."
3/30/07 14:03 JR