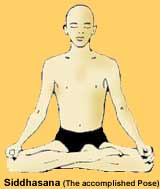 Researchers from the University of Ferrara, in Italy tell us yoga-derived breathing improves gas exchange in patients with chronic heart failure and in people exposed to high-altitude hypoxia.
Here's what they found in patients with chronic obstructive pulmonary disease (COPD).
First, the details.
11 patients with COPD, no previous yoga experience, and taking only short-acting beta2-adrenergic blocking drugs were assigned to a treatment.

30-minute spontaneous breathing at rest
30-minute yoga lesson

Breathing and oxygen saturation were monitored.
During the yoga lesson, patients were requested to breath in sequence starting with the diaphragm, lower chest, and upper chest — adopting a slower and deeper breathing.
Changes in dyspnea (difficulty breathing) during the yoga lesson were assessed with the Borg scale (a linear scale used to measure exercise intensity).
And, the results.
During the yoga lesson, the breathing pattern became significantly deeper and slower.
There was also significant improvement in SaO2% (ability to oxygenate red blood cells).
All the participants reported being comfortable during the yoga lesson, with no increased difficulty in breathing.
The bottom line?
The authors concluded, "Short-term training in yoga is well tolerated and induces favorable respiratory changes in patients with COPD."
In another small study of 29 COPD patients published this year, researchers from the University of California, San Francisco reported that patients who participated in yoga tolerated more activity with less dyspnea-related distress. They also improved their functional performance."
These findings need to be confirmed in a larger study.
5/8/09 19:11 JR