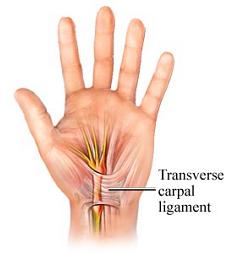 Researchers from Colorado compared general and targeted massage treatment programs.
First, the details.
27 people diagnosed with carpal tunnel syndrome (CTS) were randomly assigned to 6 weeks of twice-weekly massage — either general or CTS-targeted massage treatments.
Changes in handgrip and key pinch dynamometers, Levine Symptom and Function evaluations (a self administered questionnaire), and the Grooved Pegboard manipulative dexterity test were measured.
Evaluations were done at the start of the study, 2 days after the 7th and 11th massages, and at a follow-up visit 4 weeks after the 12th massage treatment.
And, the results.
Targeted massage resulted in significantly greater gains in grip strength than general massage, with a 17% increase (beginning vs last evaluation) vs a 5% statistically insignificant gain in the general massage group.
Significant improvement in grip strength was observed following the 7th targeted massage treatment.
Benefits lasted at least 4 weeks after treatment.
No other comparisons between groups attained statistical significance.
The bottom line?
The authors concluded, "Massage therapy may be a practical conservative intervention for compression neuropathies, such as CTS, although additional research is needed."
Past studies of massage for CTS have not been conclusive.
Aside from taking steroids, there's moderate evidence that splints are effective and vitamin B6 is ineffective. There's one positive study I'm aware of with chiropractic.
There's also evidence for using gliding exercise. And the Mayo Clinic reports that gliding exercises are usually more effective when combined with other treatments for CTS.
From my perspective, the benefits of targeted massage appear marginal. Would it be worth the cost of massage treatments to have a 17% improvement in grip strength?
7/25/08 16:26 JR