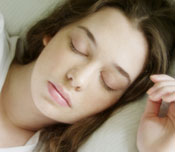 Researchers from the Institute of Behavioural Sciences in Budapest, Hungary tell us it depends on what you listen to.
First, the details.
94 students with sleep complaints were divided into 3 groups for the 3-week study.

Listened for 45 minutes to relaxing classical music
Listened to an audio book
Received no special treatment.

Sleep quality was measured using the Pittsburg Sleep Quality Index.
Depressive symptoms were measured using the Beck Depression Inventory.
And, the results.
Music significantly improved sleep quality.
Sleep quality did not improve in the audio book or the no treatment group.
Depressive symptoms decreased significantly in the music group but not in the group listening to audio books.
The bottom line?
The authors concluded, "Relaxing classical music is an effective intervention in reducing sleeping problems."
But the evidence for music is conflicting. In an earlier study, researchers from Brock University in Ontario, Canada reported, "Music was not significantly better than … tones or control conditions in improving sleep onset latency, sleep efficiency, wake time after sleep onset, or percent slow wave sleep."
8/23/08 21:34 JR