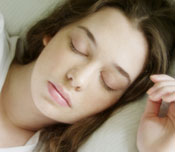 Waterbed and foam mattress seem to have a small positive effect on back symptoms, according to researchers in Denmark.
First, the details.
160 people with chronic low back pain were randomly assigned to 1 of 3 groups over 1 month.

Waterbed (Akva)
Body-conforming foam mattress (Tempur)
Hard mattress (Innovation Futon)

After 4 weeks, an observer who did not know the mattress used (singel-blinded) interviewed the patients.
Responses included changes in lower back pain, activities of daily living, and sleeping hours at night.
And, the results.
19 volunteers never started the study.
27 dropped out due to poor response — no better than the bottom 10% of responders who competed the study. They were treated as non-responders in the analysis.
There were no significant differences between the waterbed and foam mattress.
There was a minor tendency for patients in the waterbed group to become better, as judged by improvement in lower back pain.
Most of the patients who slept in the waterbed or foam mattress became slightly better, whereas the opposite was the case in the hard-mattress group.
The bottom line?
The authors concluded, "Body-conforming soft mattresses seem to have advantage over hard mattresses."
"It seems obvious that the more difficult it is to turn from side to side, which is especially the case in a waterbed," state the authors, "the more seldom it will be done during the sleep. But actually, the more even the pressure distribution, the less are such turns needed."
Overall, "a waterbed and a body-contour foam mattress generally influenced back symptoms, function, and sleep more positively than a hard mattress, but the differences were small."
5/31/0819:47 JR