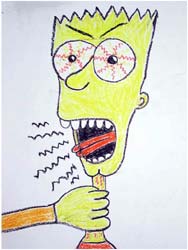 Vitamin C is an antioxidant found in the fluid that surrounds the lung. Low vitamin C intake is associated with lung dysfunction.
This Cochrane review looks at the evidence for vitamin C (ascorbic acid) as treatment for asthma.
First, the details.
Studies were included if they dealt with the treatment of asthma using vitamin C supplementation.
9 studies in 330 participants met this review criteria.
5 studies actually had data the reviewers could use.
And, the results.
Study design varied and the reporting was generally poor.
One small study showed a significant difference in percent drop in FEV1 after exercise.

FEV1 is the amount of air that can be forcibly exhaled from the lungs in the first second of a forced exhalation. It's an important measure of lung function.
The bottom line?
As you might guess, the authors concluded, "At present, evidence… is insufficient to recommend a specific role for vitamin C in the treatment of asthma."
The positive study referred to above included 8 patients who took vitamin C 1500 mg per day for 2 weeks and then placebo or vice versa — crossover design. In addition to the positive effect on FEV1, asthma symptoms scores significantly improved with ascorbic acid compared to the placebo.
3/20/09 21:20 JR