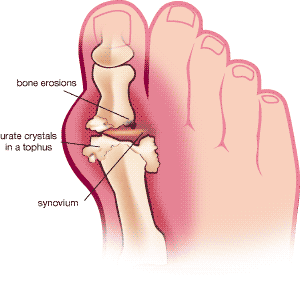 Several studies show that higher vitamin C intake reduces uric acid blood levels.
Researchers from British Columbia and Boston studied the link between vitamin C and the risk of actually getting gout.
First, the details.
Vitamin C intake and the risk of gout were monitored in 46,994 men with no history of the disease.
The men were followed for 20 years.
During the study, participants completed questionnaires on the onset of gout and their use of vitamin C.
And, the results.
There were 1317 cases of gout.
The risk of gout decreased significantly as the daily dose of vitamin C increased from less than 250 mg to 1500 mg or greater.
The bottom line?
The authors concluded, "Higher vitamin C intake is independently associated with a lower risk of gout. Supplemental vitamin C intake may be beneficial in the prevention of gout."
John Mepham has written extensively about CAM and gout. He has several thoughts and cautions, which add perspective to these results.
Vitamin C appears to work by increasing uric acid elimination via the kidneys.
However, the relationship between uric acid blood levels and gout risk isn't perfect.
In fact, most people with high uric acid blood levels don't get gout, while some people with normal levels do.
Rapid changes in uric acid levels (as when suddenly taking high doses of vitamin C) can trigger a gout attack.
If you think you're at risk or already have gout, speak with your doctor before starting a high-dose regimen of vitamin C.
3/10/09 11:00 JR