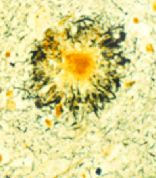 A new product deemed a "medical food" by the Food and Drug Administration is now available in the United States.
Called Axona, this prescription product is mixed with water and taken once daily.
Axona targets metabolic deficiencies associated with Alzheimer's disease, and was shown in a phase 2 clinical study of 152 patients with probable mild-to-moderate Alzheimer's disease to improve cognition and memory, according to the manufacturer.
The bottom line?
The Alzheimer's Association is reserving judgment. Promising results in phase 2 studies are often not confirmed in phase 3 studies of much larger groups of patients.
That the FDA has approved Axona as part of the Orphan Drug Act says more about the lack options for preventing or treating Alzheimer's disease than it does the efficacy and safety of this product.
More about Axona is here, and here.
3/14/09 00:01 JR