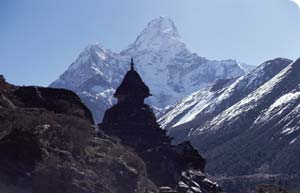 Acute mountain sickness may be caused by oxidative damage that results in leaking cerebrovascular fluid.
Oral antioxidants, didn't make a difference in this study by researchers in the UK.
First, the details.
83 healthy lowland volunteers ascended to 5200 meters on the Apex 2 high altitude research expedition.
Participants were randomly assigned to 1 of 2 treatments.

1-gram l-ascorbic acid, 400 IU of alpha-tocopherol acetate, and 600 mg of alpha-lipoic acid (Cultech Ltd., Wales, UK) daily in 4 divided doses
Placebo

Prevalence of acute mountain sickness was measured using the Lake Louise Consensus score sheet (LLS).
Neither the researchers nor participants knew the treatment given — double-blind.
And, the results.
There was no difference in the incidence or severity of acute mountain sickness between groups at any time at high altitude.
At Day 2 at 5200 meters, 69% of the antioxidant group and 66% of the placebo group had acute mountain sickness — not significant.
There were no differences in pulmonary artery systolic pressure, oxygen saturation, presence of a pericardial effusion, or acute mountain sickness as assessed by a visual analogue scale.
The bottom line?
The authors "found no evidence of benefit from antioxidant supplementation at high altitude."
About a year ago, researchers from Birmingham, UK reviewed pharmacotherapy options to prevent and treat of acute altitude- related problems. They concluded that more research was required to establish the role of antioxidants.
3/11/09 22:3 JR