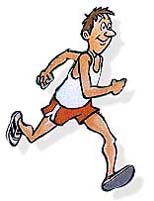 Researchers from the University of South Australia in Adelaide define the added benefits of a diet rich in omega-3 fatty acids to regular aerobic exercise.
First, the details.
Overweight adults (BMI greater than 25) with high blood pressure, and abnormal levels of cholesterol or triglycerides were randomly assigned to 1 of 4 groups

Fish oil: 6 grams per day (Hi-DHA; Nu-Mega Ingredients Pty Ltd); 260 mg DHA and 60 mg EPA per 1 gram capsule)
Fish oil plus exercise: walked 3 day/week for 45 minutes at 75% age-predicted maximal heart rate
Sunflower oil: 6 grams per day, as a control
Sunflower oil plus exercise

Lipids, blood pressure, and arterial function were assessed at 0, 6, and 12 weeks.
Body composition was assessed using bone density scans at 0 and 12 weeks.
And, the results.
Fish oil supplementation lowered triglycerides, increased HDL (good) cholesterol, and improved endothelium-dependent arterial vasodilatation (a sign of early stage atherosclerosis), significantly.
Exercise improved arterial compliance (better heart function) significantly.
Both fish oil and exercise independently reduced body fat, significantly.
The bottom line?
The exercise regimen followed by the participants wasn't that extreme and could fit most lifestyles, I suspect. In this study, more than 85% of the participants complied with walking 3 times per week.
What's new is that this is the first study to evaluate the metabolic and cardiovascular benefits of combining fish oil with regular aerobic exercise. It shows that "both fish oil supplementation and regular exercise significantly reduced body fat, which indicates the potential benefit of a combined treatment strategy for optimizing body composition."
The authors concluded, "Fish oil supplements and regular exercise both reduce body fat and improve cardiovascular and metabolic health. Increasing intake of omega-3 fatty acid could be a useful adjunct to exercise programs aimed at improving body composition and decreasing cardiovascular disease risk."
5/31/08 11:14 JR