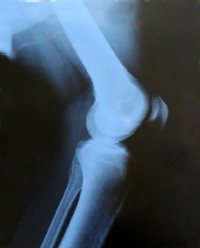 Despite negative results, researchers from Denmark think another, larger study is needed.
First, the details.
43 adults with pain and stiffness from non-specific osteoarthritis of the knee for more than a year were studied.
In some patients, gold beads were implanted at 5 acupuncture points around the affected knee through a hypodermic needle.
In other patients only the needle was inserted (placebo).
Neither the doctors nor the patients knew the treatment they received (double-blinded).
And, the results.
Both groups of patients "generally improved."
There was no statistically significant difference between the groups' responses in self-assessment scores, stiffness, or function.
The surgeon's scores also generally improved, but there was no difference in knee score or function.
The treatment was well-tolerated.
The bottom line?
An earlier study in animals with abnormal formation of the hip joint (dysplasia) reported a significant placebo effect with this procedure.
5/29/08 19:59 JR