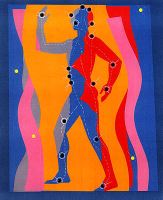 Yes, it's effective short term, according to researchers at Southern California University of Health Sciences at Whittier.
It's the latest in a series of reviews (here, here, and here) on this topic in the past few years.
First, the details.
14 studies were included in this review.
What's new, according to the authors, is that while only a single meta-analysis was done in previous reviews, this review performed 9 (count 'em, nine) meta-analyses addressing different clinical issues.
And, the results.
Details are scarce in the abstract; however, "7 out of 9 meta-analyses yielded positive results."
Acupuncture was more effective vs no treatment for neck pain.
Acupuncture was significantly more effective than sham acupuncture for pain relief.
The bottom line?
"The quantitative meta-analysis… confirmed the short-term effectiveness and efficacy of acupuncture in the treatment of neck pain. Further studies," say the authors, "that address the long-term efficacy of acupuncture for neck pain are warranted."
"Warranted?"
Maybe, but Dr. Paul White from the University of Texas Southwestern Medical Center in Dallas has reviewed the issue and reported that acupuncture for neck pain was effective short-term, but the response does not result in long-term benefits.
2/17/09 20:27 JR