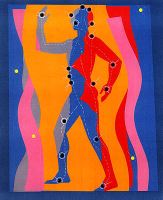 Researchers from Berlin's Charité University Medical Centre report it's worth the cost.
First, the details.
3182 adults with primary headache (headache unrelated to an underlying disease) were studied.
Each patient had a history of at least 2 headaches per month over the past year.
Acupuncture plus routine care was compared to routine care alone.
Outcome measures included quality of life (Short Form 36), direct and indirect costs differences during the 3-month study period, and the incremental cost-effectiveness ratio (ICER) of acupuncture treatment.

ICER is the ratio of the difference in costs of acupuncture plus routine care vs routine care alone, adjusted for the improvement in patient care.
And, the results.
Costs were significantly higher in the acupuncture group vs the usual care group due to the cost of acupuncture.
But the ICER was €11,657 per quality of life years gained (QALY) gained.
The bottom line?
In dollars, that more than $17,000.
The authors concluded, "According to international cost-effectiveness threshold values, acupuncture is a cost-effective treatment in patients with primary headache."
In an earlier review, the Cochrane Library concluded, "The existing evidence supports the value of acupuncture for the treatment of idiopathic headaches." However, they wanted more evidence.
Now they have it.
3/5/08 18:46 JR