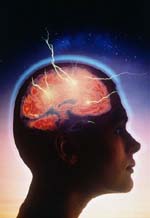 Bright visible-spectrum light therapy is effective treatment for seasonal affective disorder (SAD). Basic research suggests that blue wavelengths approximately 470 nm account for that effectiveness.
To confirm these findings, researchers from the University of Utah in Salt Lake City, tested blue light in people with SAD.
First, the details.
30 volunteers with SAD based on DSM-IV criteria were randomly exposed to blue- or red-light emitted from narrow-band light-emitting diode panels for 3 weeks.
Both groups were further divided into SAD only and those experiencing depression with seasonal intensification.
After this phase of the study, 25 of these people taken from both groups were treated with blue-light.
Response was assessed using Hamilton Depression Rating Scale-17 item version and other scales.
Neither the volunteers nor the researchers knew the treatment given — double-blind.
And, the results.
Participants improved significantly more with blue-light (51%) than with red-light (32%).
Among those treated with blue light, 60% responded vs 13% with red light — a significant difference.
SAD patients responded numerically better to treatment than those experiencing depression with seasonal intensification during both treatment phases.
The bottom line?
The authors concluded, "Narrow bandwidth blue-light therapy proved superior to red-light therapy. Blue-light therapy produced results similar to both previous 10,000 lux visible-spectrum light studies and many medication studies."
Blue wavelengths of approximately 470 nm appear to account for the response.
12/4/08 19:34 JR