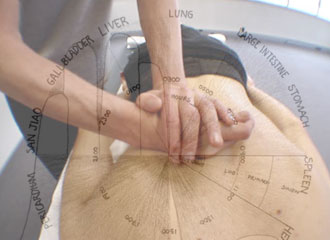 The Traverse City Record-Eagle has a story about a pilgrimage to China to learn about tuina (aka Tui Na).
Here's what we know about tuina and research that's been published in 2008.
According to Maria Mercati, author of the Handbook of Chinese Massage…
Tuina is a form of deep massage.
It's major application is in relieving chronic pain.
Also used to treat a wide range of common ailments.
Tuina should not be used in patients with cancer, severe heart disease, or osteoporosis, among other conditions.
Studies published in 2008
Cerebral palsy
116 children were treated for 12 weeks.
Group I: treated with acupuncture, tuina, and rehabilitation (physio, occupational, and hydrotherapy).
Group II: like Group I but without acupuncture an tuina,
"The risk of increasing seizure is not increased with acupuncture."

Or, put another way, acupuncture and tuina made no contribution to treatment.
Cervical spondylosis (spinal degeneration associated with aging)
Review of past research

"The efficacy of tuina is not supported by parallel-group comparison studies."
Insomnia due to deficiency of both the heart and spleen
92 patients randomly assigned to treatment.
Group I: acupuncture + moxibustion and Chinese tuina
Group II: acupuncture + moxibustion
Group II experienced significant "therapeutic effects for treatment of insomnia due to deficiency of both the heart and spleen."
The bottom line?
Here's a video of Chinese tuina massage technique for the neck and shoulders.
11/13/08 21:46 JR