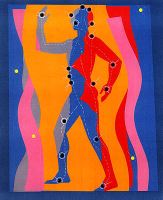 Reviewers from Duke University Medical Center in Durham, North Carolina conclude it's better than sham acupuncture and even drugs.
First, the details.
31 studies were included.
Data on headache intensity, headache frequency, and response rate were evaluated.
And, the results.
Most studies comparing true acupuncture to sham acupuncture showed a trend in favor of acupuncture.
The combined response rate with acupuncture was significantly higher vs sham acupuncture at the early and late follow-up periods.
Combined data showed acupuncture was superior to drug therapy for headache intensity, headache frequency, physical function, and response rate.
The bottom line?
More detail on the effectiveness of acupuncture vs drugs is presented here.
Another study concluded, "According to international cost-effectiveness threshold values, acupuncture is a cost-effective treatment in patients with primary headache."
11/21/08 20:13 JR