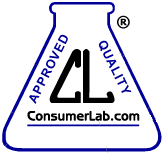 Among 17 products, 4 failed to measure up.
That's almost 25%.
Tests of vitamin A tablets and oils (including cod liver oil) showed that one supplement delivered nearly double its claimed amount of vitamin A. It's of concern due to potential toxicity. Toxic effects of excess vitamin A include bone and liver abnormalities, as well as birth defects of the brain, eyes and head.
3 other products contained significantly less vitamin A than stated on the labels.
Here are the products tested.
Country Life
Ethical Nutrients
Futurebiotics
Garden of Life
Health from the Sea
Metagenics
Nature Made
Nature's Bounty
Nature's Way
Puritan's Pride
Rite Aid
Solgar
Source Naturals
Spectrum Essentials
Swanson
Vitamin Shoppe
Vitamin World
The bottom line?
You'll have to subscribe to ConsumerLab to get the details.
10/30/08 21:22 JR