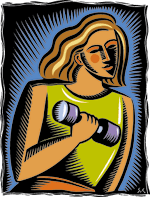 The Women's Health Initiative reported reduced bone loss with treatment.
But do healthier bones mean older women will become more active?
First, the details.
33,067 older women were randomly assigned to take 1,000 mg calcium carbonate plus 400 IU vitamin D3 per day or matching placebo pills.
Changes in physical functioning was based on responses to a questionnaire 1 year before starting the study and at the end (about 7 years later).
The participants and researchers were not aware of the treatment given — double blind.
And, the results.
There was no association between taking calcium/vitamin D and subsequent physical functioning or performance compared to taking placebo.
The bottom line?
So, taking calcium and vitamin D might protect bones, but it doesn't guarantee that older women will become more active.
What's that old saying about leading a horse to water?
10/11/08 11:35 JR