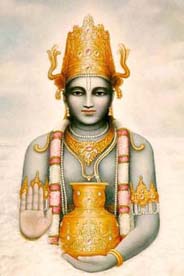 Reporting at the American College of Rheumatology Annual Scientific Meeting, researchers from the Center For Rheumatic Diseases in Maharashtra, India concluded, Ayurvedic drugs may be safer and just as effective as glucosamine and celecoxib (Celebrex).
First, the details.
440 adults with active pain associated with knee osteoarthritis were randomly assigned to 1 of 4 treatments.

1 of 2 formulations of T. cordifolia and Z. officinale based extracts — namely SG'C and SG'CG
Glucosamine sulfate 2 grams daily
Celecoxib 200 mg daily

Effectiveness and safety of each treatment over 24 weeks of treatment were compared.
Neither the patients nor the researchers knew the treatment given — double-blind.
And, the results.
28% of the patients did not complete the study; withdrawals were equally spread among the groups.
There were no differences in effectiveness of the treatments.
None of the groups experienced serious side effects.
Those taking ayurvedic therapy had fewer side effects overall — no mention of statistical significance here.
The bottom line?
The authors concluded, "The results showed ayurvedic treatments to be relatively safe and as effective as glucosamine and celecoxib for improving pain and function in patients with osteoarthritis."
Too bad the authors and/or the writer of this NewsWise article didn't provide more detail on the results of this study. You know, criteria such as pain, physical function, depression, etc.
10/27/08 20:11 JR