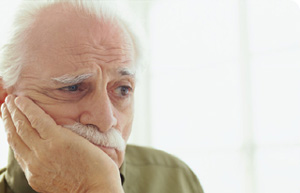 Researchers from the University of Western Australia in Crawley examined whether vitamins B-12, B-6, and folate might reduce the severity of depressive symptoms and the incidence of clinically significant depression.
First, the details.
299 elderly men, free of clinically significant depression were randomly assigned to take B-12 400 mcg + folic acid 2 mg + B-6 25 mg per day or placebo for 2 years.
The Beck Depression Inventory [BDI] score was the primary outcome measured.
And, the results.
There was no significant difference in BDI scores between the groups.
Participants taking the vitamins were 24% more likely to remain free of depression, but the difference between the groups was not statistically significant.
At the end of the study, 84% of men treated with vitamins and 79% of those treated with placebo remained free of depressive symptoms.
B12, folate, and homocysteine blood levels were similar in men with and without depression.
The bottom line?
The authors concluded, "Treatment with B-12, folic acid, and B-6 is no better than placebo at reducing the severity of depressive symptoms or the incidence of clinically significant depression over a period of 2 years in older men."
In contrast to this, Dr. Daniel Hill-Flavin, a psychiatrist from St. Louis, Missouri writing on MayoClinic.com tells us that in an earlier study of more than 3000 older adults with vitamin B-12 deficiency, depressive symptoms were more common compared to seniors who were not deficient in vitamin B-12. However, the reason for this was unclear.
The groups in theses studies weren't identical. But in treating any disease, it's important to correct underlying abnormalities that might contribute (even a small amount) to the main diagnosis.
It's possible that the absence of a B-12 deficiency at the start of the most recent study was a factor in the "lack of response" to the vitamins.
8/22/08 14:45 JR