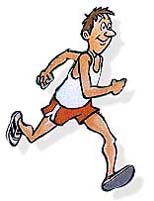 Researchers from McMaster University in Hamilton, Canada compared the heart benefits of brief, high-intensity forms of exercise compared to traditional, long-duration and moderately intense exercise.
First, the details.
20 healthy untrained young adult volunteers performed 6 weeks of sprint interval training (SIT) or traditional high-volume endurance training (ET).

SIT: 4 to 6 x 30 second "all-out" Wingate Tests separated by 4.5 minutes of recovery, 3 days/week.
ET: 40 to 60 minutes of cycling at 65% of peak exercise capacity, 5 days/week.
And, the results.
6 weeks of intense SIT improved the structure and function of arteries as much as traditional and longer endurance exercise with larger time commitment.
The bottom line?
The authors' emphasize the more pain for gain perspective. "SIT is a time-efficient strategy to elicit improvements in peripheral vascular structure and function that are comparable to ET".
OK for athletes or the young, maybe.
For me, I like the less pain, equal gain perspective. Just add a little fish oil. Voila! You have a sensible exercise program for the rest of us.
6/7/08 08:42 JR