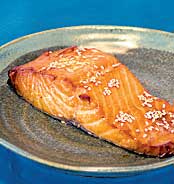 A lot of bandwidth and newsprint have been spent spreading the word about the benefits of omega-3 fatty acids.
Apparently, few parents are reading.
This article in Functional Ingredients reports what Stremicks Heritage Foods learned about what parents understand about docosahexaenoic acid (DHA), an omega-3 fatty acid that is readily used by the body.
Here's what they found.
Fewer than 1 in 5 people understand the importance of DHA to a newborn or infant (18%).
Even fewer know that DHA is important to the health of toddlers (16%) and preschool-aged children (14%).
72% of respondents said they made a conscious effort to include certain vitamins and nutrients, such as vitamin C and calcium, in their child's daily diet.
But only 7% were including omega-3 DHA in their diet.
The bottom line?
Here's my primer on omega-3 fatty acids for mums and their kids.
5/13/08 20:46 JR