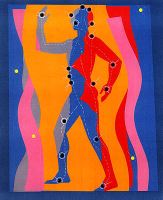 A group of reviewers from the US and Europe concluded, "Because acupuncture may have small short-term effects, some clinicians and patients may consider acupuncture as one treatment option in a multidisciplinary approach to treating knee osteoarthritis."
Past entries on this blog (here, here, and here) have been generally positive on this topic. The biggest problem is sorting out the effects of sham vs real acupuncture.
Here's what was found after a reanalysis (meta-analysis) of the results from 9 studies.
Compared with patients in waiting list control groups, patients getting acupuncture reported clinically relevant short-term improvements in pain and function.
Patients who received acupuncture also reported clinically relevant short- and long-term improvements in pain and function compared with patients in usual care control groups.
However, when real acupuncture was compared to sham acupuncture, no significant differences were found.
The bottom line?
According to the editor of the Annals of Internal Medicine, "The use of different types of comparisons (sham acupuncture vs. interventions in which the participant[s] knew whether they were receiving acupuncture) explains the variability in the conclusions of published trials about the effectiveness of acupuncture for treating knee osteoarthritis. Placebo or expectation effects probably account for the observed benefits."
This is not the first time that sham acupuncture has been pointed to as a confounding factor in assessing the usefulness of acupuncture to treat pain associated with knee osteoarthritis.
Your tax dollars at work
This analysis was funded by a grant from the National Institutes of Health, National Center for Complementary and Alternative Medicine.
6/19/07 18:12 JR