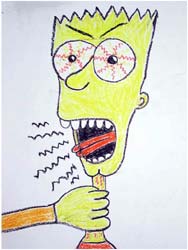 According to researchers from Tripler Army Medical Center in Honolulu, the children had "excellent asthma treatment and disease control."
Here are the details.
120 kids, 6 to 17 years old, with persistent asthma were assigned randomly to the office-based or virtual treatment for 12 months.
Office-based patients received traditional in-person education and management.
Virtual group patients were given computers; Internet connections; and in-home, Internet-based case management; and received education through the study website.
And the results
Kids in the virtual group were better at using the metered-dose inhaler at 52 weeks (94% vs 89% in the office-based patients)
They also kept better records of their asthma symptoms (35% vs 21%)
According to the caregivers, both groups had improved quality of life and better asthma knowledge compared to the start of the study.
The bottom line?
The abstract (available to me) doesn't mention any differences in asthma control (eg, acute attacks, emergency room visits, hospital admissions). Perhaps it's discussed in the article. It appears that a well-designed program can equal the routine aspects of office-based care of kids with asthma.
An earlier study where the Internet was used successfully to help manage patient care is here.
5/2/07 21:03 JR