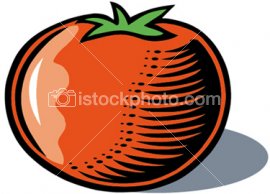 So far, demonstrating a nutritional advantage of organically grown food has been difficult.
Here's a study that supports the added nutritional benefits of organic tomatoes.
First, the details.
8 components that contribute to the healthy quality of a tomato (lycopene, beta-carotene, other carotenoids, flavonoids, phenolic acids, vitamins C and E, dry residue) were studied as part of programs to develop nutritional superior tomatoes.
And, the results.
Among 18 tomato genotypes, 10 showed a high level of total carotenoids, 6 a high level of beta-carotene, 9 high lycopene levels, 15 high flavonoids, and 2 a relevant concentration of vitamin E.
The authors called for the development of an index of antioxidant nutritional quality (IQUAN) as a tool to assist breeding programs in selecting tomato genotypes with antioxidant nutritional qualities.
The bottom line?
An article in FoodNavigator.com|Europe quotes two experts who are skeptical.
Lord Krebs, former chairman of the UK's Food Standards Agency (FSA) and now an academic at Oxford, stated, "Higher flavonoid levels do not necessarily mean that organic food is healthier."
Claire Williamson from the British Nutrition Foundation stated, "The overall body of science does not support the view that organic food is more nutritious than conventionally grown food."
In her view, "Organic farming represents a sustainable method of agriculture that avoids the use of artificial fertilizers and pesticides and makes use of crop rotation and good animal husbandry to control pests and diseases? From a nutritional perspective, there is currently not enough evidence to recommend organic foods over conventionally produced foods."
7/21/07 18:47 JR