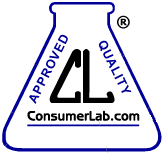 Dr. Tod Cooperman, who is president of the third-party product analysis company, ConsumerLab, states that one in 4 products tested by his company is problematic in one way or another, and more than half of multivitamins tested do not meet what is printed on the labels.
So, which companies reliably provide quality products?
Since I don't subscribe to ConsumerLab, I never knew — until now.
A report by Dr. Cooerman's company quoted on FunctionalIngredients.com identifies Centrum, Nature's Way, Schiff, and Nature Made as companies that deliver on quality and reliability.
Click here for a shortcut to the reviews posted by ConsumerLab over the past year and a half.
11/29/07 21:11 JR