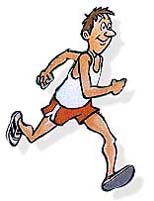 If an elite athlete takes something that enhances the immune system, does that make it a performance enhancement drug?
First, the details.
20 healthy male distance runners received 2 treatments in random order over 4 months of winter training.

Lactobacillus fermentum VRI-003 (PCC) given daily
Placebo capsules

Neither the athletes nor researchers knew the treatment given (blinded).
And, the results.
The runners had fewer than half the number of days of respiratory symptoms during Lactobacillus treatment (30 days) vs placebo (72 days).
Illness severity was also significantly lower during Lactobacillus treatment.
There were no significant differences in immunoglobulin or in interleukin levels between treatments.
However, Lactobacillus treatment elicited a significant twofold increase in interferon gamma vs placebo.
There were no substantial changes in running performance.
The bottom line?
The reduction in the number of days and severity of respiratory symptoms in this group of athletes might be in response to the higher interferon levels, concluded the authors.
More benefits from probiotics in marathon runners can be found here.
2/18/08 21:04 JR