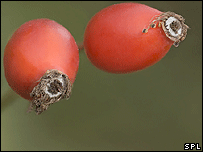 A study presented during the European Congress of Rheumatology in Barcelona concluded, "Patients affected with severe rheumatoid arthritis found pain relief after taking rose-hips for 6 months."
First, the details.
74 patients took part in the 6-month study.
About half took the rose-hips remedy, LitoZin (Rosa canina), while the others took a placebo.
Both groups continued to take their usual medicine.
Here are the results, as reported on Irishhealth.com.
Activity in the rose-hips group improved by 20% to 25%.
The number of joints causing pain or discomfort fell by 40% in the rose-hips group, but did not change during placebo treatment.
The bottom line?
The results support this product as a complement to the usual treatment of rheumatoid arthritis.
The report at the BBC website states that an active ingredients in LitoZin called GOPO (a trademarked acronym for glycoside of mono and diglycerol) is similar to "fish oil."
The BBC also quoted enthusiastic comments from Professor Kaj Winther, who ran the Danish part of the study, and said the supplement could be used as an interim treatment to postpone the day the patient needed to move on to the more expensive drugs.
Also, Professor Alan Silman, the medical director of the Arthritis Research Campaign, said that if rose-hips were shown to have only limited side effects they could be a useful adjunct to conventional drug treatment for people with rheumatoid arthritis.
Further research support comes from a 2005 study in 94 patients with osteoarthritis of the hip or knee where rose-hips treatment was associated with significant pain reduction compared to placebo after 3 weeks. Also, the use of "rescue medication" to treat flair-ups of pain significantly declined.
Disability, stiffness, and overall severity decreased significantly after 3 months of treatment.
Links to other studies are here, at the GOPO website.
6/27/07 18:12 JR