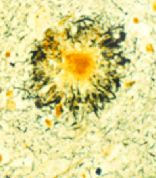 Researchers from Rush University Medical Center in Chicago have reported, "no relation between statin use and the risk of Alzheimer's disease or a decline in thinking ability."
In the absence of an allopathic silver bullet, it's worthwhile to review what we know about complementary options to ease what author Eileen Shamy refers to as "the frightening and weary stages of Alzheimer's disease."
Probably most exciting is the research with omega-3 fatty acids.
Fish oil increased production of LR11 (lipoprotein receptor 11) in rat and mice.

Reduced levels of LR11 protein is found Alzheimer's patients.
LR11 can destroy the protein that forms "plaques" associated with the disease.
Even at low doses, DHA increased LR11 levels in rat nerve fibers.

In patients with mild dementia there's some evidence that omega-3 might slow cognitive (reasoning) decline.
The National Institutes of Health is conducting a large-scale study in patients with established Alzheimer's disease.
A possibly related option is the Mediterranean diet.
Adherence to the diet favorably affected the risk and course of Alzheimer's disease.
More on these and other CAM options — positive and not so positive — are linked and summarized here and here.
1/21/08 19:56 JR